With the rapid development of automobile industry, the safety of the car and driving comfort get more and more attention, the rear-view mirror as the main way of the driver for indirect vision, its layout and design rationality directly affect the safety and driving experience, along with the development of science and technology, auto rearview mirror also unceasingly to intelligence, comfortable, functional integration direction, this article mainly analyzes the working principle and advantages and disadvantages of streaming rearview mirror, give you some idea.
And after several major hot products we reviewed in the market - for you to provide the most professional purchase advice

Streaming rearview mirror 's working principle:
Streaming rearview mirror is installed in the rear of the car rear view mirror system wide Angle camera, integrated in the display screen and controller on the rearview mirror, through a wide Angle camera in car rear image, the controller handles the car after the information displayed in the screen, basically eliminated the car after the blind area, and no interference at the rear passengers and other objects, previous models developed in order to get a better view, back window must be very big, and streaming  rearview mirror on the rear window size and C column model is unrestricted, can meet the demand of the modelling of diversification.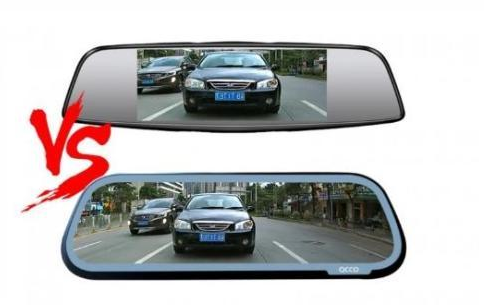 Streaming rearview mirror 's advantage:

T
he traditional recorder has a small field of vision, which can only meet the basic driving needs, and it is difficult to further broaden its vision.
But streaming rearview mirrors, which typically have a five-fold wide field of view, are generally fully covered on all the rear lanes.
2.
Super clear deformation
The rearview mirror of streaming  has a very clear shooting picture with high color restoration and no distortion.
Streaming rearview mirror has a good effect of light, not dazzling, very comfortable to look at.
Streaming  rearview mirror 's d

evelopment challenges:
However, as a new product, the following aspects should be optimized for the subsequent development of streaming  rearview mirror:
1. Imaging problem in the condition of insufficient light.
The existing imaging technology is enough to make the camera work reliably under the working conditions with appropriate brightness, but it is inevitable that the traffic encounter is  at night, tunnel and other conditions with poor lighting conditions
2. The impact of frequent light changes on the camera.
At the moment of rapid change of light, optical elements need to adjust the exposure and other imaging parameters, the display screen will be delayed, the image during this period will be defective, which has a negative impact on driving safety
3. Imaging durability and reliability.
The rearview mirror of streaming can keep working in the whole journey of the car with long working time. High-speed driving requires higher performance of the camera, which brings challenges in terms of high pixel, no distortion, wide dynamic, low illumination, high frame rate and high reliability
4.Higher computing power and storage requirements.
With the improvement of imaging pixels, data transmission and image processing bring imaging delay problem, and the processor needs higher computing power and highly optimized internal algorithms.
Choosing the Best Streaming Rearview Mirror Camera – Top 5 Reviews
ASASO  DL12 Mirror Dash Cam Multifunction Car Recorder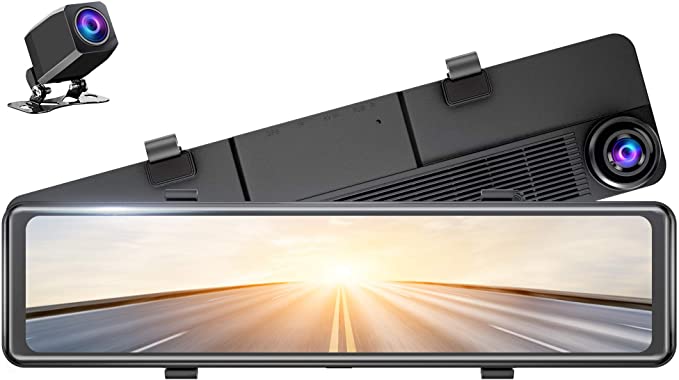 2.5K Dual Dash Cams
DL12 Mirror Dash Cam provides with ultra HD video resolution up to 2.5K (2560 X 1440) . And 1080P rear camera can provide more remarkable details .
12" Wider Live Stream Rear View
With latest 12" IPS touch screen, DL12 backup camera can provide more traffic information in real time and at wider angle.
Enhanced Super Night Vision
Adopts Sony IMX335 starvis sensor and Hisilicon Hi3556 processor, plus 6 glass fixed-focus lens, DL12 providing  video with sharp picture quality and vivid color at the starlight environment.
GPS Module Included
With one GPS module, which help to record real time location, current driving track and driving speed. 
Powerful Multi Functions
Loop Recording allows continuous recording even if the SD memory card reaches full capacity; G-sensor detects a sudden collision and lock the collision footage.
VanTop H610  

Mirror Dash Cam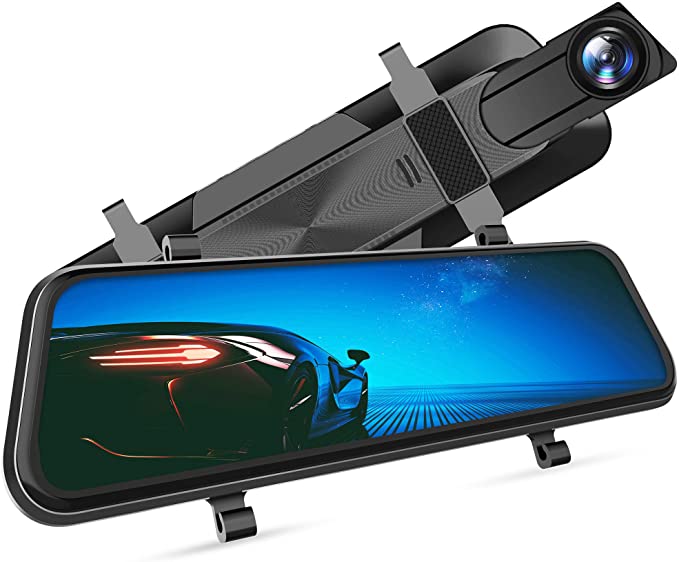 Streaming Media Display
Displays the real-time traffic situation on the road. Provides 3 times wider view than traditional rear view. Super Clear Footage 2.5K resolution with Sony sensor offers
super clear footage
Capture details on driver's journey all day and night. Innovative IPS Touch Screen Known for wide viewing angles, great variety of colors, improved color accuracy, offering higher display quality.
SPADE 12" Voice Command Mirror Dash Cam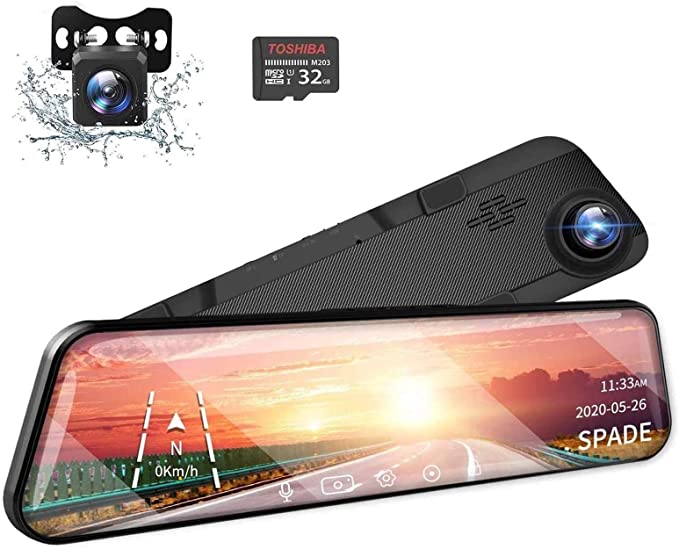 The backup camera would not upload any private information to internet, no need to worry when speak anything.
High Resolution and Space-saving Video Storage.
SPADE 12 inch mirror dash cam with SONY sensor captures clear video. The H.265 compression format will save storage for more footage.
Product Dimension: 11.9 x 2.8 x 0.6 inch
Rear View Camera Cable Length: 20ft
IIWEY Upgraded S1 front and rear dual camera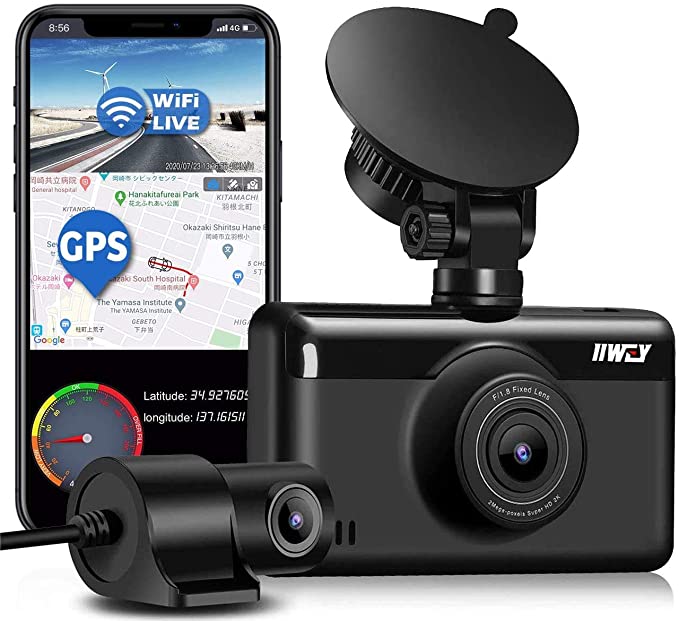 IIWEY S1 Dual HD Dash Cameras ,dual Sony sensors ensure the front and rear cameras capture every detail of the road in crystal-clear clarity even in low light, the advanced sensitive HD touch screen provide a simple operating system rather than the traditional complex buttons, the V0 fireproof material makes the camera work well under the high temperature conditions in summer.
Campark R12 Dual Lens Dash Camera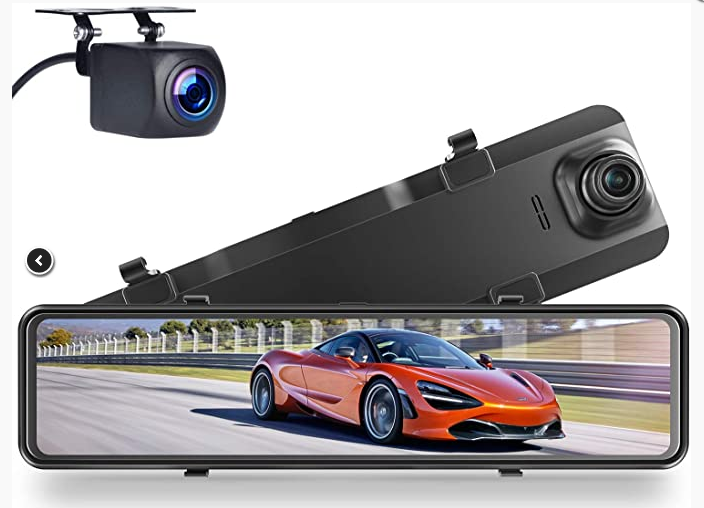 Stunning 2.5K Ultra HD & Wider FOV
More Dynamic Detail with 2.5K front camera and waterproof 1080P rear camera
Smart Voice Control System
Equipped with voice command function, Access to basic functions using simple voice commands.
GPS Tracker
The GPS module helps record the real-time location, current driving track, and speed. 
And can compare this brand's another model :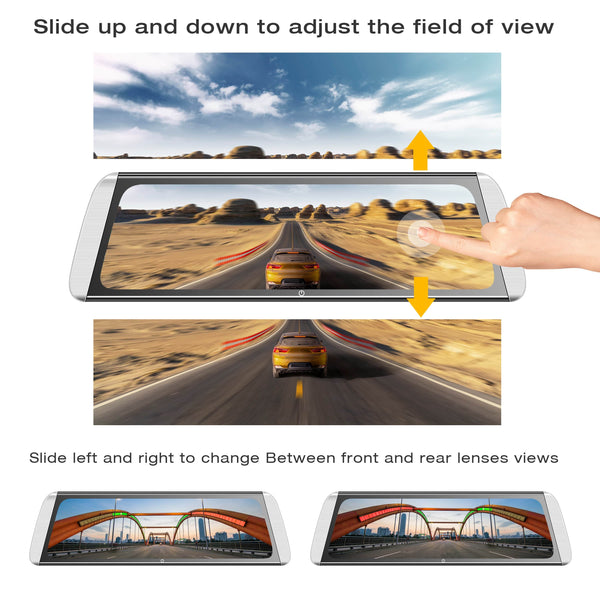 10 Inch 1080P Touch Screen Streaming Media Mirror Dash Cam:
provide with clear and bright real-time traffic condition without delays. All operations can be done by swiping your fingers.
1080P high resolution on dual cameras can bring crystal image. Front and rear cameras record at the same time.
Super Night Vision Safe Driving at Night:
Equipped with F2.0 aperture and 6 glass lens, can enhances night vision and obtain sharp, color-accurate images.
Withstand Extreme Temperature:
The device stands well in bad weather and extreme temperature during 4 °F to 170°(F), also the breathable back design helps the unit spreading out the heat when outside temperature is hot.
The big difference of these two products are:
The Front camera of the R12 is higher configuration , and the picture of the license plate is more brilliant and clear;Inch is more bigger than R10;And Support Max 128GB Micro SD Card 
Streaming Rearview Mirror Dash Camera Buyer Guide
Image Quality
Image quality is also called resolution.The higher the MP value, the better the image quality. Streaming rearview mirror cameras have 1080P,2560P and so on. Most scenarios 1080P will suffice.
Wireless Wi-Fi

 function
Using  wireless network can direct use,is suitable for indoor scenes.Choose the wireless network of the receiving device in the camera to connect them. The wired product needs to use the network cable ,more stable signal.
Touch screen or remote control
Touch screen is easy to operate in close distance, but it is easily affected by temperature.The touch screen sometimes doesn't respond or malfunctions, so remote control is also fine. 
Summary
That's the guide, and hopefully it'll help you choose the best one.Welcome to forward to the friends who are interested in the streaming rearview mirror dash camera.