Why you need a solar panel to run trail camera?
As we all know, a trail camera requires constant battery replacement to continue working, but trail cameras are generally installed in high places, such as trees, power poles, or forests and other remote places.
The trail camera is working 24 hours a day and consumes a lot of battery. If the battery is not replaced in time, it is very likely that you will miss a lot of wonderful photos or videos.

It takes time and money to replace these batteries, and then, once you put them back in place, you need to discard all these batteries in a recycling center. Caused environmental pollution.

One of the most popular alternatives to replace countless batteries is to use solar panels in conjunction with rear-view cameras. Adding a solar panel may increase the life of a set of batteries, thereby saving money, and more importantly, saving you time in the field.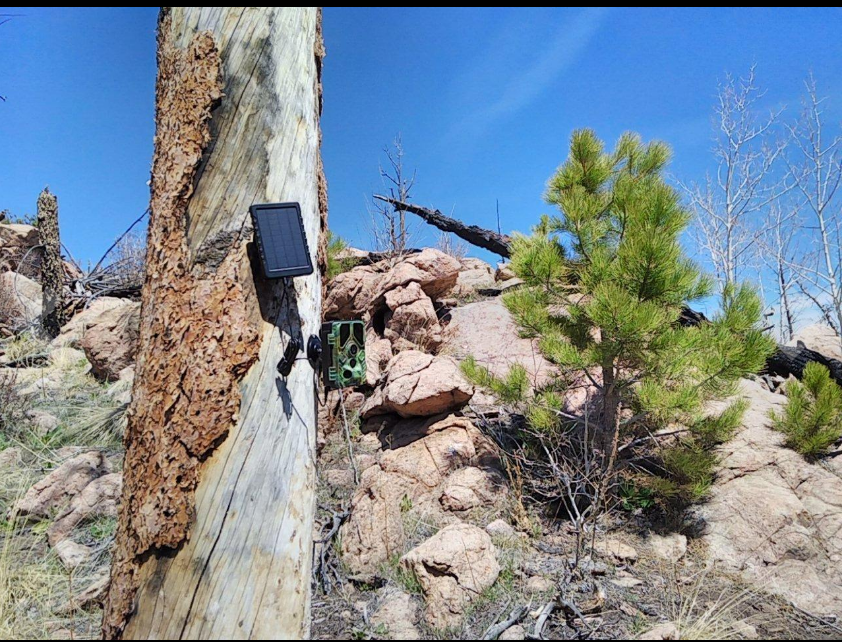 Camppark solar panels  FAQ 
Question:
How can I tell if the unit is: 1) positioned correctly for charging 2) is charged? The one card manual does not explain. Thanks
Answer:
Hi friend. Lights up red while the solar panel is charging by adapter. When it is working with hunting camera it will lights blue.

Question:
Hi..is it safe to plug in Solar panel with normal batteries installed? I wish more info about use came with this product.
Answer:
Yes it is safe to. It will prolong the normal batteries life installed. When the solar panel powers the camera, the normal batteries rest and vice versa.

Question:
Why is the solar panel's blue light flashing? Even when it is being charged by adapter. My camera cannot get power from the solar panel.
Answer:
Not sure why blue light is on! My trail camera runs without batteries while I have this panel plugged in!

Question:
Does it work on other brands of cameras? Such as toguard,Victure trail camera.
Answer:
Hello. The output voltage of solar charger is DC 6V / 2A. Please check if your camera has an input voltage of 6V / 2A and an interface of 3.5mm.
Campark solar panels Customer Reviews
this solar panel comes with the usb wire that plugs into the trail cam and powers it as long as there is sun and then your batteries will take over at night. it does not charge your batteries inside the camera. it also comes with an ac adapter to plug the panel into the wall to get it charged back up to full capacity when the sun is not strong enough. the light is red when charging by the adapter and the light turns blue when the panel is out in the sun whether its plugged into anything or not. it flickers blue/purple during a cloudy time. i tested this panel on the camera without batteries inside the house after charging the panel by the ac adapter and it did power the camera. i have left it out in a storm and its still charging. so far, so good on this purchase.
Wow! This makes so much sense than loading up the trail cam with batteries. The perfect addition to the Campark trail cam to keep it juiced up at all times to catch those important shots. We've been using it in our Chicken Coop to try and catch some shots of predators, in the few weeks we've been using this tho - we've not lost any chickens, but I will update if we capture a shot of whatever is picking them off.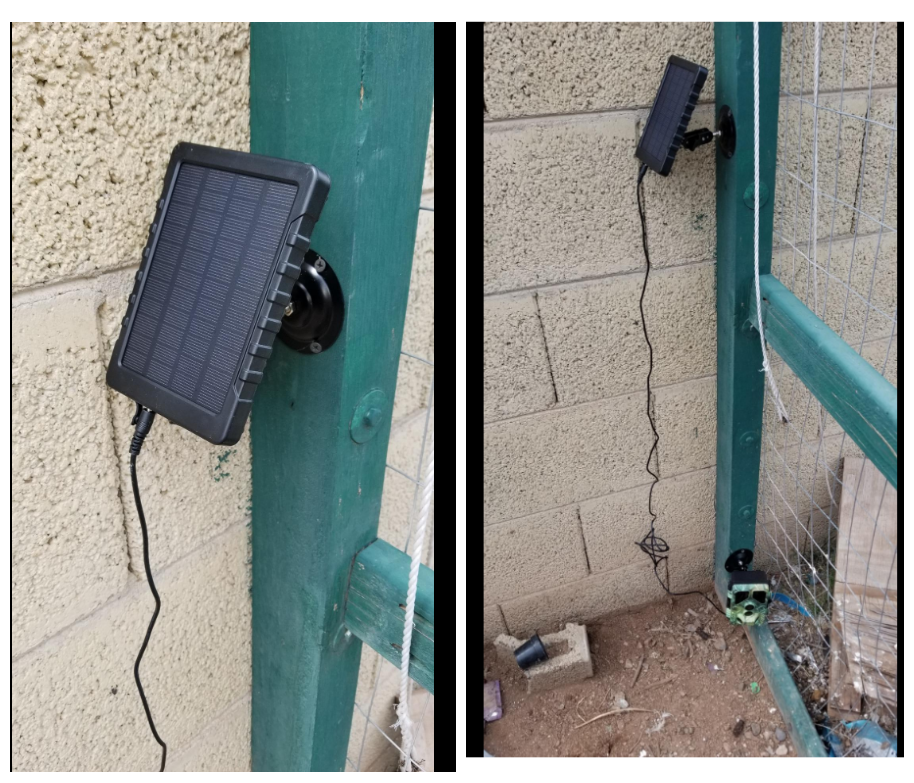 It works very well with the trail camera. It has been proven to be waterproof, even though there was a cable plugged into it. It won't charge separate batteries that you put in the camera, (just for reference) but it is a battery in itself and keeps a steady charge for the camera, so you wouldn't have to replace anything. It's a very good alternative for using disposable or even rechargeable batteries. If I had to say one thing that isn't too good about it, it would be the fact that you can't see how much battery it has unless you connect to the camera itself. That's only a very small inconvenience though. You can also screw it onto the bottom of the camera (like in the picture).