About this item
【100% wire free】: Built-in large-capacity rechargeable battery and equipped with 2W high-efficiency solar panel to provide eternal power for the solar security camera. The base station is connected to the router to provide a stable network reception environment for the solar security camera system. No wiring required, you can install the WiFi IP Camera anywhere. Charge for 5 hours before first use to get more than 365 days battery life. 
【3MP Night vision】: This solar security camera for home security equipped with a great 1/3 CMOS sensor and premium lens group to provide you with 3MP(2340*1296P) images and videos at any time; built-in infrared light automatically detects surrounding light and switches to black and white night vision mode when the light dims; up to 33ft night vision distance and 5x digital zoom allowing you to pick up more details clearly even at night.
【2-Way audio & IP65 Waterproof】: The solar powered outdoor camera has a built-in noise-reduction microphone and speaker, so you can make real-time calls with anyone in front of the camera via the APP even when you are away from home. With an IP65 weatherproof rating, SC02 shrug off heavy rain, snow, wind and dust, it can work flawlessly at -4°F to 122°F, can be installed in the front door, wall, backyard, or indoors to protect your property.
【PIR motion detection & instant alert】: The solar powered outdoor camera is equipped with intelligent PIR motion detection system and exclusive AI intelligence algorithm, which improves human and pet detection and can reduce 95% false alarms caused by rain, insects, tree branches, etc. Real-time alarm notifications with 12 seconds of video recording are automatically sent to your phone as soon as the camera is triggered, no matter where you are.
【Scan to connect & two storage modes】: search"CloudEye" in App Store or Google Play Store to get download and install. And scan the QR code on the base station to connect your phone and the solar security camera. Share the device with your family or friends via the APP. The solar security camera system support Micro SD card(Max.128G, NOT included) and Cloud storage(Free cloud storage for 30 days).
【Mounting type】: Wall Mount
【Video capture resolution】:  2340×1296P
【APP】:search"CloudEye" in App Store or Google Play Store to get download and install the APP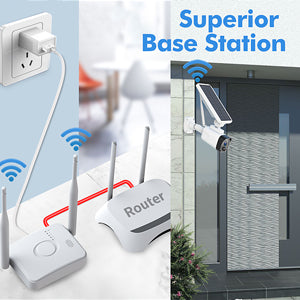 Unique base station
The base station is connected to the router for the stability of network transmission. One base station can connect 4 cameras. Security cameras don't need to connect to wifi, cameras will automatically connect to the base station. You can place the camera anywhere and anytime, never worry about bothering because of the line and wifi problem, use it as you like. The maximum connection distance between the base and the camera: 90ft-160ft(30m-50m)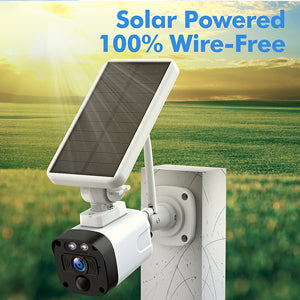 Solar Powered Battery Camera
The camera has a built-in 6400 large rechargeable battery and is equipped with a 2W high-efficiency solar panel. Just need to charge the camera once before use, after which the integrated solar camera is installed in a high sunny place, ensuring that the solar panel can receive maximum sunlight and provide uninterrupted power to the camera.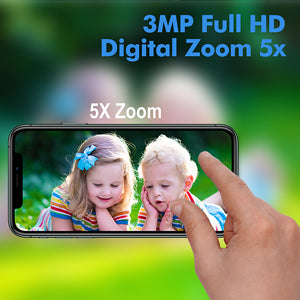 3MP Video Resolution
With 3MP HD resolution, the outdoor solar camera provides you with all the details of the surveillance area to help you protect and monitor your property. The monitoring screen on the APP can be zoom-in up to 5 times, so that it is easy to check every detail in the coverage area without missing any suspicious point.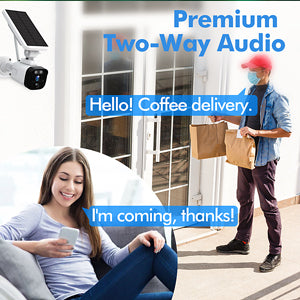 Two-Way Audio
The Campark outdoor camera built-in microphone and speaker. Click the "Microphone" in the APP to achieve clear 2-way audio communication. With this feature you can not only talk to family, friends, but also scare off intruders.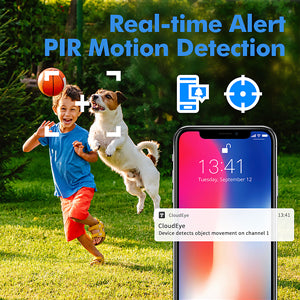 PIR Motion Detection & Instant Alert
The upgraded solar-powered camera is equipped with PIR detection sensor, which reduces false alarms caused by insects and fallen leaves by 95% and accurately captures human movement. Once the camera detects suspicious motion, it will immediately instant push with pictures/videos to your phone.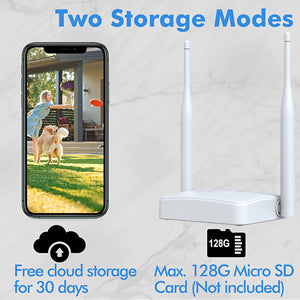 SD Card / Encrypted Cloud Storage
Insert SD card (max. 128G, NOT INCLUDED), you can playback and download stored pictures and videos on your phone. You can also choose a fully encrypted cloud storage service, and never worry about personal privacy leaks after the camera is lost.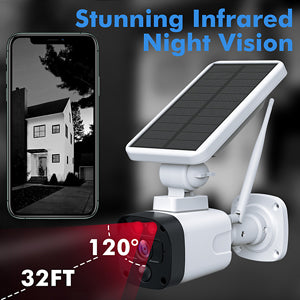 Stunning Night Vision
With built-in 2 infrared LED lights, the solar cameras automatically switches to black and white night vision images when it detects that the light is dim. The camera has 120° monitoring angle and night vision range of 32ft, which can record any abnormal events even in the dark without lights.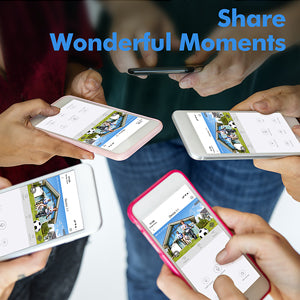 Multiple User Sharing
Sometimes you may ignore the prompt information of the alarm. You can share the access rights of the camera with your family and friends through the APP CloudEdge, and multiple users can get real-time viewing at the same time to protect your safety and property together.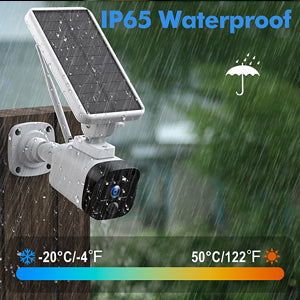 IP65 Waterproof
The Cover is made of premium ABS material, rating waterproof IP65, waterproof, dustproof, anti-high temperature, frostproof, and its quality is enough to withstand the test of various bad weather. It can withstand temperatures from -4°F to 122°F(-20℃ to +50℃). Don't worry about its stability and durability.
Why Use WiFi Base Station:
The base station can be inserted into a 128G SD card to store video, which can avoid theft of solar cameras, video loss, security, and easy to operate. The memory card is automatically overwritten when it is full, eliminating the need for repeated installations.
Solar security camera and base station factory is matching. (Note: the camera can not be separated from the base station for separate use). Customers only need to download Cloud Eye APP (APP is free), scan the QR code on the base station, and the images of multiple cameras (up to 4) will be automatically displayed on the APP.
The base station is connected to the router to provide a stable network reception environment and enhance the signal returned by the solar camera. When there is any movement outside, the camera will be activated and the customer will be notified in time. (Note: that the longest distance between camera and host communication is 150 feet; wifi distance between camera and camera can be linked to effectively expand the surveillance range)
If you want the camera to connect to a monitor, please use an HDMI converter. We recommend using Campark SC04 3MP Solar Security Camera With HDMI Base Station. Campark SC04 can be connected directly to a monitor, which can directly display uncompressed native picture quality.
Warm Tips:

1. Please charge the solar outdoor camera with the included power adapter for 5 HOURS before using it for the first time.
2. This solar security camera outdoor SUPPORT 2.4G Wifi connection. Simply manually change the 5GHz to 2.4GHz in your WIFI network to make sure the camera WIFI connection is done. If you need help on this please feel free to contact support:  support@campark.net
3.The camera and base station only need to be connected through wifi, no network cables and wires are needed. But the base station needs to be plugged into the Internet cable to be powered on before it can be used.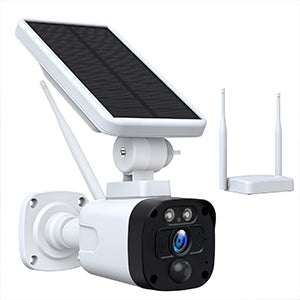 Specification
Resolution: 3MP (2340*1296P)

Daytime distance: 98ft (30m)

night vision distance: 33ft (10m)

2-Way Audio: Built-in microphone and loudspeaker
Smart security: Smart PIR Motion Detect and Instant
Alerts Data Storage: SD Card (not included)/ Cloud Storage

Maximum supported memory card: 128G

Waterproof: IP65 weatherproof certificated
Package Dimensions:11.93 x 10.24 x 9.53 inches
Item Weight:6.67 pounds

Waterproof rating: IP65

Base station power/Camera power supply: DC/5V

The maximum connection distance between the base and the camera:

90ft-160ft(

30m-50m)
Package
1 x Solar Security Camera
1 x 2.4G WiFi Base Station
1 x Manual
1 x Antenna
1 x Screw Package
1 x USB Cable
1 x Network cable