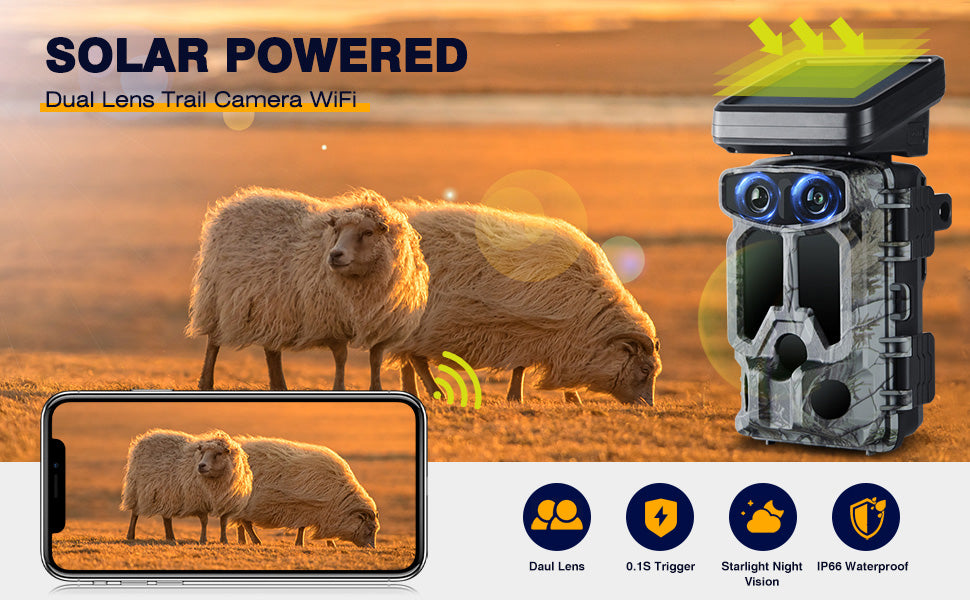 About this item
【Solar Powered Trail Camera】: This trail camera is designed with dual power supply. It can be powered with the solar panel and 8 AA batteries. So you do not need to change batteries frequently. You can save a lot of batteries every year. Saving batteries is saving money.
【Dual Lens Wildlife Camera】: This WiFi trail camera has a dual-lens design. The two lenses can automatically switch according to the intensity of light. This lens on the left only works during the daytime. The lens on the right is a dedicated night vision lens, which will give you sharper nighttime images than a normal single-lens hunting camera. Beside, in low battery conditions, the LED lights don't work, but this night vision lens can take pictures with ambient light. This is something a single-lens hunting camera can't do.
【4K Native Video & 60MP UHD Photo】: Maybe the highest resolution hunting camera yet. This wifi trail camera can capture 4K 30fps native video and 60-megapixel ultra clear images at daytime, taking you the high quality and exciting visual details. The dedicated night vision lens can provide 1296P videos and 8-megapixel photos. This trail camera will present you a wonderful wildlife world, day or night. (Note: We recommend to use U3 or Class 10 SD card up to 128GB.)
【WiFi Connection & APP Control】: This hunting trail camera has a built-in WIFI signal, scan the QR code to download the FREE APP ''Hunting 4K'' on your mobile phone, then connect to the WIFI, you can view or download photos and videos directly to your phone. You can also adjust the wildlife camera setting with the APP. (Note: The APP control is limited by the trail camera wifi signal range, about 50 feet.)
【Super Fast 0.1s Trigger Speed】: This hunting camera is equipped with 3 high-sensitivity PIR sensors, with 120 degrees wide sensing range and 20 meters sensing distance. Once the motion is detected, the camera will trigger instantly within 0.1s with no delay. It can take up to 10 photos in a row. You will never miss any exciting moment of the wildlife.
【Easy to Install】: This wildlife camera comes with a 55"/1.4m mounting belt and 1/4" threaded mounting bracket, you can easily install the trail camera on the tree or the wall. More advanced features: IP66 Waterproof, 3 Modes(Photo, Video, Photo+Video), Time-lapse, Time stamp, Audio recording, Password protection, 2.4" Color LCD screen, 5-180 Seconds video, etc.
Delivery process
The goods will generally be delivered within 1-2 days (working days), you can see the delivery status in the order within 1-2 working days, and we will also send you an email to remind you that your order has been Shipments are shipped, and after shipping, a tracking number will be sent to your mailbox. You can check the logistics of your order according to the tracking number. Check my order
Delivery time
5-10 Business days to arrive. Note: Logistics will be delayed due to Covid 19. Expect a delay of about 3-5 days than usual. Learn more about shipping and returns.  
Equipped with rechargeable solar panels
The Campark TC07 camera is equipped with a removable solar panel on top that converts light energy into electricity to keep the camera working properly. Save you a lot of money as well as the time to uninstall and install the camera.
60MP images and 4K Ultra HD video
Equipped with an optical lens and image sensor, it can capture crystal-clear images up to 60MP and Ultra HD video up to 4K with sound. Dual lenses can switch day and night visual effects according to different scenes, providing stunning picture quality. Optional image and video resolutions are also supported, allowing for a good balance of image/video quality and storage space.
Advanced night vision
With the most advanced image sensor, optical lens and next-generation imaging technology, you can capture 1296P 30FPS clear video with sound and 8MP HD images even in complete darkness.It also supports time-lapse shooting, continuous shooting, PIR sensitivity adjustment and password protection. A variety of function customization options to meet the needs of various scenarios.
0.1s trigger speed and 120° wide-angle lens
Built-in 3 high-sensitivity PIR sensors, once any movement of the animal is detected, the trail camera will trigger immediately within 0.1s. Trigger distances up to 65 ft (20m). The 120° wide angle ensures maximum coverage without missing any details of the animals.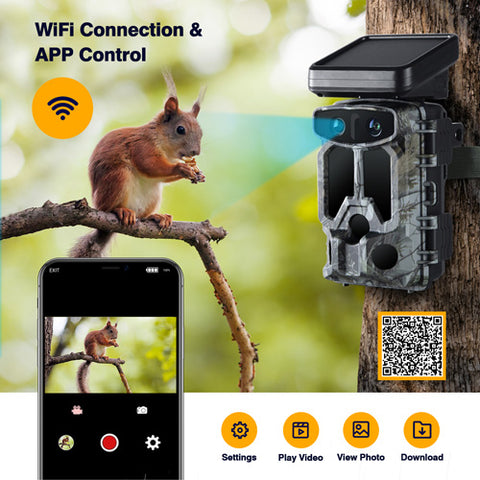 APP control 
The camera is equipped with WiFi Bluetooth connection and APP control function. The phone download APP ("Hunting 4K") you to easily set, browse and download pictures and videos, avoiding the trouble of repeatedly disassembling and installing the camera.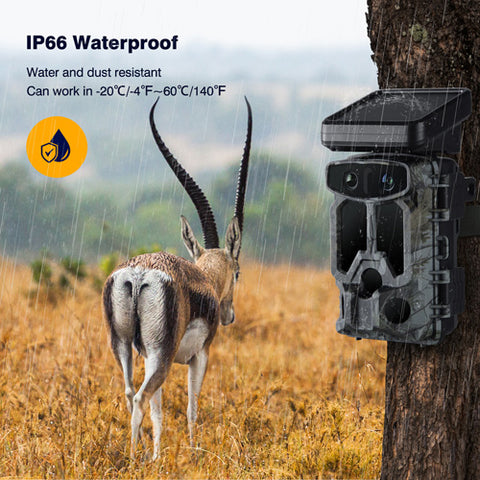 IP66 waterproof and durable
The sturdy case protects it from rain and dust, making the hunting camera work even in bad weather. Equipped with 8 AA 1.5V batteries, it can provide up to 8 months of standby runtime.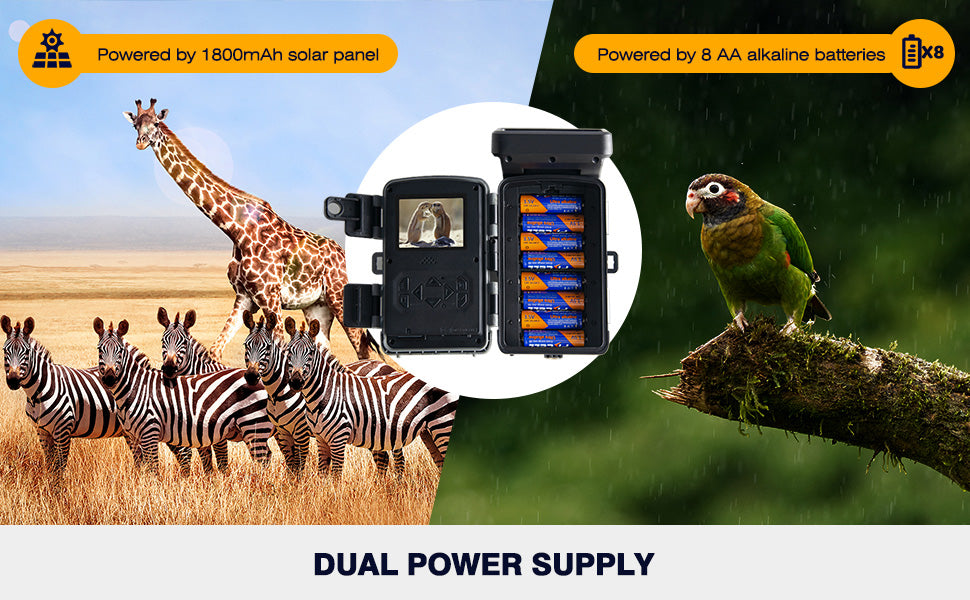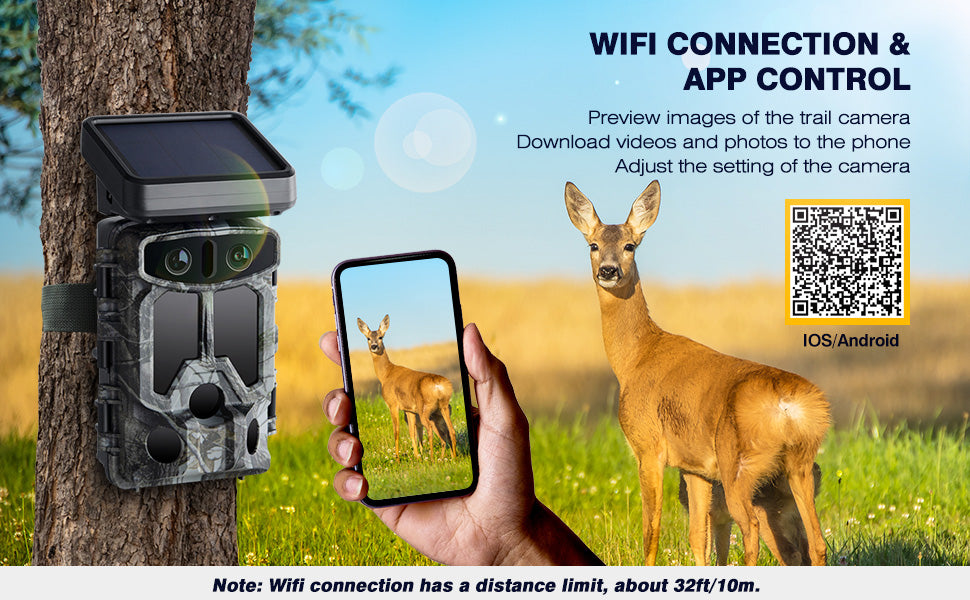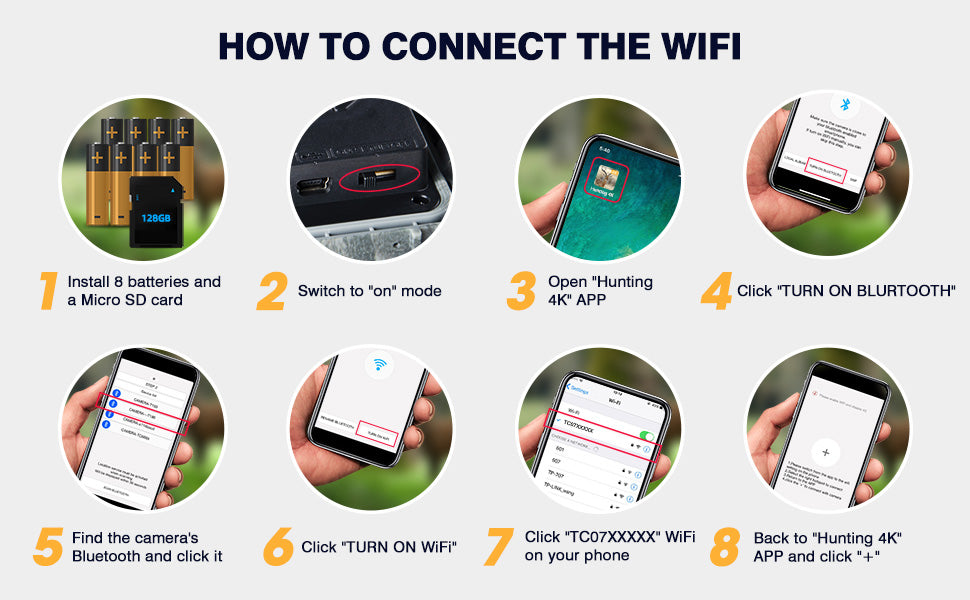 specification
Photo resolution: Daytime:60M/52M/48M/36M/24M/13M ;Nighttime:8M/4M/2M
Video resolution: Daytime:4K 30FPS/2.7K 30FPS/2K 60FPS/2K 30FPS/1080P 60FPS/1080P 30FPS/720P 30FPS;Nighttime:1296P 30FPS/1080P 30FPS/720P 30FPS
Screen: 2.4"colour TFTLCD;
Sensor: 1/3"CMOS sensor
Lens: F=4.3:F=2.0
IR flash: 24pcs 850nm
Triggering time: 0.1s
Photo:JPEG:Video:MP4
Sensor angle zone:120°
Triggering distance: up to 20m
Storage: 

SD card (U3 or V30 higher, up to 

128

GB)

Waterproof: IP66
APP:Hunting 4K
Package
1*Wildlife Camera
3*Screws
1*User Manual
1*Mounting Belt
1*Wall Mount
1*9USB cable
What if you buy from us and are not satisfied with the image quality?
Feel free to email: lisa@campark.net or chat with us at any time and we can review the images and offer advice or determine immediately if there is a problem with the camera. If so, you can return it within 30 days and we offer a one year warranty. return the camera within 30 days for a full refund. Our goal is to make sure your buying experience exceeds your expectations.

Founded in 2008, Campark has created a line of low cost, high quality trail cameras, action cameras, dash cameras, security cameras and more for camera enthusiasts. It's a simple idea: do our best to give people something cool to capture every moment in the world. If you think our products or services are pretty good, you are welcome to recommend us to your friends and you will get a 15% commission. (Check out our referral/affiliate program)